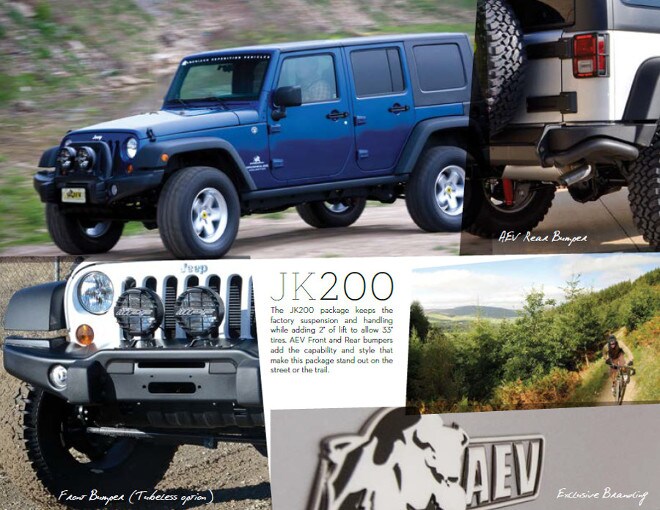 The JK200 Jeep Wrangler Package
AEV Premium Front Bumper
AEV Non-Winch Coverplate
IPF 901 Off-Road Lights
AEV Rear Bumper
AEV 2.0" Spacer Lift
AEV ProCal
AEV Jack Base
AEV 17" Alloy Wheels
33" All-Terrain Tires
AEV Badging
AEV Instrument Cluster
AEV Logo Headrest
AEV Serialized Build Plaque
The AEV 2" Spacer Suspension Lift provides a more aggressive appearance and AEV quality at an economical price. Since this Suspension Lift retains the original coil springs and shock absorbers, the factory ride quality and handling characteristics remain in tact.
AEV's Premium Front Bumper offers an unparalleled level of front end protection and styling for your Jeep Wrangler. This stamped steel front bumper is built to withstand some serious off-road abuse, but also gives your Jeep Wrangler a distinctive look to set your Jeep apart from the crowd.
The 33" BFGoodrich All-Terrain T/A KO tires feature an aggressive, all-terrain tread pattern with interlocking tread blocks and innovative siping to provide excellent traction and handling without generating excessive road noise.